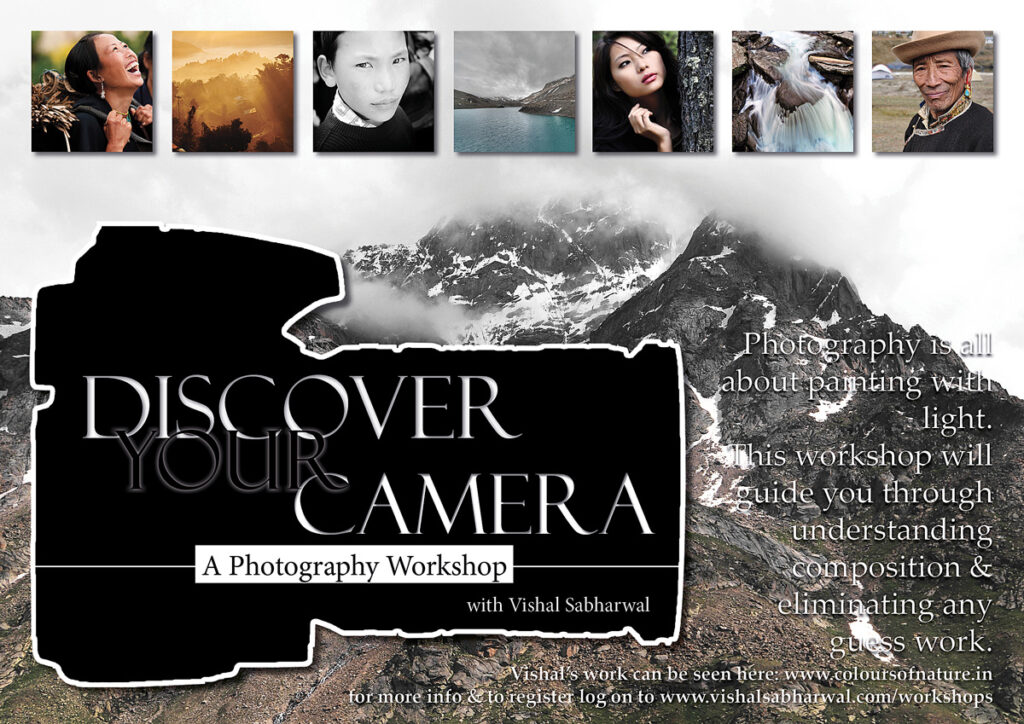 Introduction to Photography: Sikkim
This workshop is for everyone looking for a great introduction to the fascinating world of photography.
Join professional photographer Vishal Sabharwal as he shares his experiences & insights on how to make photographs that stand out.
Discussions with real world scenarios helping you learn to make the most out of your camera.

Features of the Workshop:
Learn photography from a 1x published photographer & Lonely Planet contributor.
Hands-on with your camera to help maximize photo opportunities.
Presentations on the creative and technical aspects of photography.
Choosing the right gear for what you shoot & making the most of what you own.
This workshop is designed for photographers of all levels. It caters to those who seek more intensive instruction, managing digital workflow and critique sessions enhancing photography to a greater level. Active discussions on how to create a Professional market for your Photography & best business practices for a career in Photography!
Get Published: participants of this workshop have an assured chance of having a single or a series of images published in print media. At the end of the workshop the work of one photographer will be chosen. You could be that one!
Course Contents: identifying and understanding each of the following:
Duration: 8 hours over 1 day
Exposure modes: Aperture, Shutter, Program & Manual

Technical details such as ISO, DOF, White Balance & Exposure Compensation

Elaboration of the Manual mode, how to master it & eliminate guess work

Histograms, RGB & SRGB colour profiles

Camera RAW: Understanding the flexibility of RAW over JPEG & TIFF files

Artificial lighting: Fill Flash & Flash Compensation

Filters: UV, Circular Polarizer, Neutral Density, Colour filters; when are they required

Choosing what to shoot & with what to shoot it

Composition, Exposure & Framing

Equipment & Lenses: Cameras, Lenses and photography accessories such as the Support systems (Tripod, Monopod, Bean bag), Memory cards & Speedlights

Digital Workflow: processing of images, colour correction, contrast & brightness, sharpness, noise reduction, creating a panorama & HDR

Handling & Caring for your gear

Critique: Individual & Group feedback of images shared, with expert views on how to enhance images

Turning Pro: taking the next step with your photography, take on assignments & have your work published

Field Learning: an entire session dedicated to photography in practice, put your learning & skills to the test

Q&A session
Dates:
There will be 2 separate workshops, one on the 24th March 2012 (Saturday) & the other on the 25th March 2012 (Sunday) Please inform the contact person during the time of registration.
Workshop timings on both days: 0900-1700hrs
Pre-requisite:
Participants are requested to get their camera gear along with some of their best photographs in digital format which will be shown at the end of the session. Some of these photos will also be used as test images for post production. Getting a camera would be nice, but it's not an absolute must.
Cost:
The cost for the course is Rs. 2500. The price includes a full day workshop with lunch, morning & evening tea/refreshments. If you're a student (school or college), we offer you a 20% discount. Kindly let us know at the time of registration.
We're accommodating 20 participants a day to a session, the limit of participation is so that every individual gets a fair chance to get their doubts cleared one-on-one greatly enhancing their learning curve.
To register or if you have any queries, please comment below or email at shal@vishalsabharwal.com
The registrations in Sikkim are being handled by our Organizing Partner:
Adventure Sikkim
Below UD&HD Dept.
Opp. Hotel Tibet
P.S. Road
Contact Person: Mr. Basant Pradhan
He is reachable on 9933024982 (0900-1700hrs)
Venue:
Heritage Denzong Regency
Cherry Banks,
Gangtok 737101
Sikkim, India
To view Vishal's work visit his personal website: Colours of Nature
Facebook connect: Vishal Sabharwal Photography
We look forward to seeing you there for a fun filled learning experience!